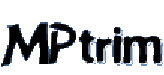 and

☰
mpTrim PRO and WavTrim PRO
The PRO versions of mpTrim and WavTrim are useful to create and maintain large music collections.
mpTrim PRO
Unlimited MP3 file support (well almost, 1GB or more, depending of your OS)
Batch support with drag'n drop, i.e. you don't have to open the files one by one if you want to process several files or directories, just drag them all at once!
Thumbnail batch creation (for example make previews using the first 30 seconds of your tracks)
VBR seek information and CRC fix
Smarter digital silence detection algorithm
Low bit-rate MPEG-2/2.5 support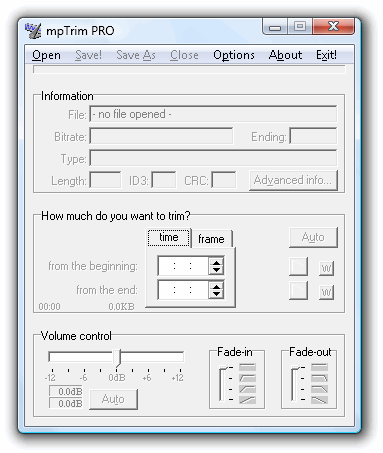 WavTrim PRO
Drag 'n drop file support i.e. you don't have to locate the files using the 'open file' dialog anymore.
Normalizing levels (from 2 to 100%), i.e. you are now able to uniformize the volume of your music tracks.
Options saving, i.e. you can now save your preference defaults.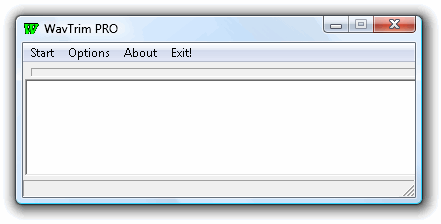 Register mpTrim PRO or WavTrim PRO
mpTrim PRO registration is $69.95. WavTrim PRO registration is $19.95. Get both for $84.95.
To register any of them, proceed here.
Registering entitles you to one year of free updates. For details, check here.

mpTrim PRO doesn't introduce a new version numbering scheme. Instead it follows mpTrim freeware version numbering, even though not all version of mpTrim freeware will have a mpTrim PRO equivalent.