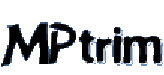 and

☰
Update and renewal policies for mpTrim PE, mpTrim PRO and WavTrim software
For all these programs, registering entitles you to one year of free updates. That means that you get all the bug fixes and new features that come along for one year, starting from the day of your registration.
During that one year period, any new option or feature added to the software will be included for free to current owners of valid registration, even if that new feature or option comes at extra cost for new registrations. New versions will appear at our discretion. Owners of currently active registration will receive new update notifications automatically by email each time a new version appears.
Once the one-year period expires, you are free to continue using the software but you'll stop receiving updates. At that time, you can purchase additional years of upgrades. Additional years start at the time the previous period stopped, not at the time you renewed the year of update. You can renew as many times as you feel necessary.
Renewal notifications
Once a user's upgrade period expires and a new version appears, we send one renewal email notice.
Upgrades
You can also upgrade" mpTrim PE" to "mpTrim PRO" for the price difference between the two software. To get an upgrade, send a request to register@mptrim.com.
Note: upgrading doesn't extend the updates period; it just upgrades the original software with its original updates period.